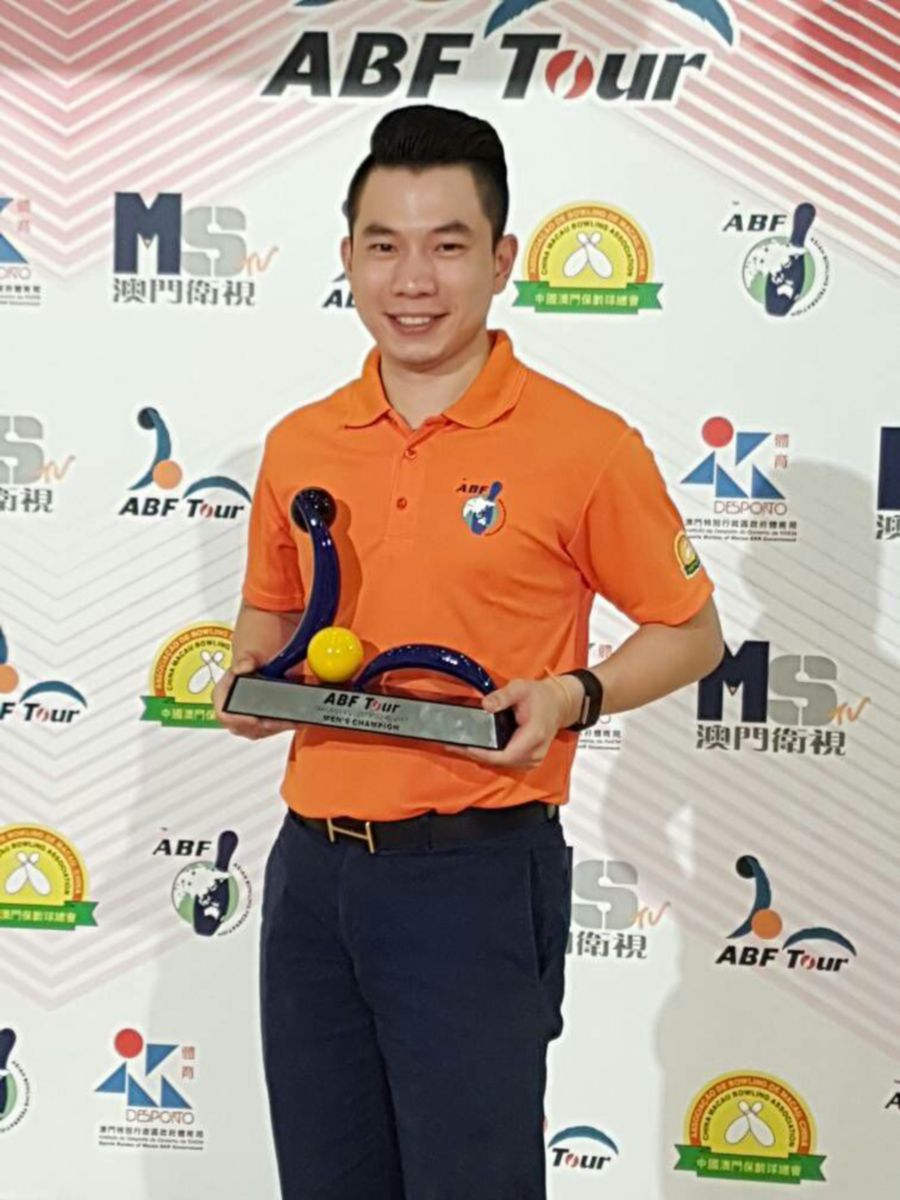 PETALING JAYA: National bowler Adrian Ang (pic) is finally a champion again.
The 28-year-old Penangite overcame South Korea's Baek Jong-yun by a single pin – 268-267 – to claim the Macau leg of the Asian Bowling Federation (ABF) Tour at the Avenida da Nave Desportivaon bowling centre on Sunday.
Adrian, who last triumphed at the 2013 Singapore Open, immediately dedicated his Macau win to his wife Ng Shiin Yi, a former national wushu exponent, and their yet-to-be-born daughter.
"I've waited for this for so long. It took me four years and several top-three finishes to get back to winning ways," said Adrian.
"But this victory is not all about me. I'd like to dedicate this win to my wife Shiin Yi and my soon-to-be-born princess Ang (Shiin Yi is due to give birth on Aug 8).
"Surely they brought me all the luck I needed. I consider myself very lucky to win a championship by just one point!"
Adrian never looked like he would lose in the one-day event, which was held a day after the Macau Open.
He averaged a whopping 281 in all four rounds – including in his wins over Thailand's Atchariya Cheng (278-266), India's Dhruv Sarda (300-268) and Macau's Lee Tak Man (278-232).
In the final, luck was certainly on Adrian's side when Jong-yun, who needed a strike in the last frame to win, could only knock down nine pins.
Veteran Alex Liew was Malaysian second-best performer, finishing third after losing 267-289 to Jong-yun in the semi-finals.
Nora Lyana Nastasia Norkamal also made it to the women's semi-finals, where she lost 170-235 to eventual champion Putty Armein of Indonesia.
Macau Open champions Syafiq Ridhwan Abdul Malek and Radin Nur Najwa Arifah Radiz Dzulfakar opted out from the tournament to return home to celebrate Hari Raya Aidilfitri.
By Tan Ming Wai – The Star online – 27 June 2017
Read more at http://www.thestar.com.my/sport/bowling/2017/06/27/adrian-ends-title-drought-by-clinching-macau-leg-of-the-abf-tour/#J7EH5rpwxG76ql1w.99