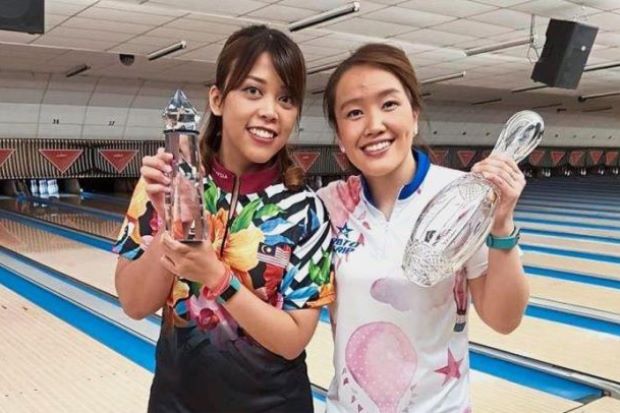 PETALING JAYA: Two Malaysian women – Siti Safiyah Amirah Abdul Rahman and Sin Li Jane – have etched their names in the United States' Professional Women's Bowling Tour (PWBA) history.
With the stepladder finals of all the four tournaments – the Players' Championship, Wichita Open, Lincoln Open and Greater Detroit Open – being held on the same day, Siti came out triumphant in Wichita while Li Jane won in Lincoln.
And they each walked away US$15,000 (RM64,300) richer!
But it was the 26-year-old Siti who took the honour of being the first-ever Malaysian winner on the prestigious Tour at the Ashwaubenon Bowling Alleyon in Wisconsin on Sunday. She defeated top seed Li Jane 224-170 in the final.
Second-seeded Siti earlier had to go through a tie-breaker to overcome Colombia's Juliana Franco in a nail-biting semi-final encounter to set up a historic all-Malaysian final.
With the score tied at 191-191, Siti and Franco headed for the one-ball roll-off. While Siti struck eight pins, Franco could only manage seven.
"I thought it was all over when I left two pins standing. Luckily for me, Juliana could only hit seven," said Siti, who picked up a cheque for US$10,000 (RM42,894).
"It's a dream come true for me to be a PWBA Tour champion. This has to be my biggest career victory since winning the (now-defunct) World Ranking Masters in 2009."
Siti had a crack at the Players' Championship crown earlier in the day but could only finish fourth – losing 212-227 to eventual winner Liz Johnson of the United States in the first stepladder tie. Siti earned US$5,000 (RM21,447) for finishing fourth.
While Siti hit pay dirt at the first time of asking, it was a case of third time's the charm for Li Jane. The 25-year-old bounced back from the Wichita Open loss to clinch the Lincoln Open title.
Top seed Li Jane, a two-time European Bowling Tour champion, outplayed Thashaina Seraus of Aruba 222-186 to fulfil her PWBA Tour dream.
"I was really fired up after losing the first final to Sofy (Siti). I told myself not to let go of this golden opportunity for the second year in a row. I guess that's what led me to victory," said Li Jane, who pocketed US$10,000 for her effort.
Li Jane had earlier picked up US$5,000 as the Wichita Open runner-up.
By Tan Ming Wai – The Star – 27 June 2017
Read more at http://www.thestar.com.my/sport/bowling/2017/06/27/our-girls-make-history-in-us/#wTClU68vSKuSV3eV.99